Javier Ivan Duran Leon
Cinduli Finca Organica Cacaotera, en la Vereda Casa de Tabla
Sierra Nevada de Santa Marta.  Colombia
Telephone, Whatsapp  +57 302 402 92 15
finca.cinduli@gmail.com
Where we are located . . .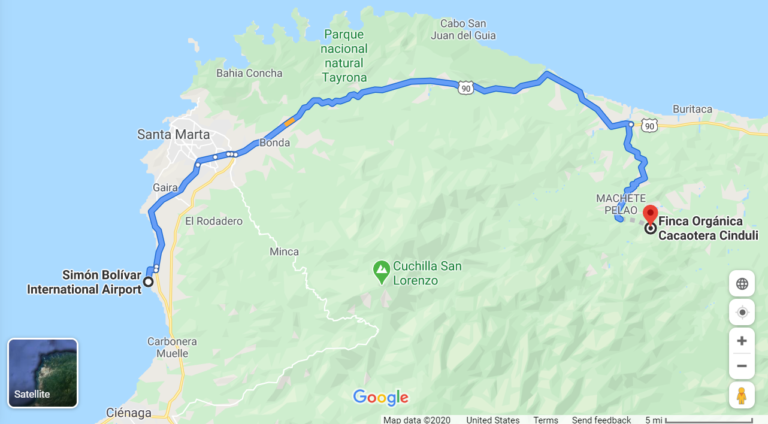 We are located in the Parque Nacional Sierra Nevada de Santa Marta, about 15 kilometers from the Troncal del Caribe, the main road between Santa Marta and Palomino in la Guajira.  See you soon…
First Leg . . . From Simon Bolivar International Airport to La Aguacatera
From the airport you could catch the public STU bus into Santa Marta or a taxi cab would cost around $30000 Colombian pesos.  You should consider spending a few days in Santa Marta which is a beautiful city.
Once in Santa Marta you would want to go to the "Plaza de Mercado" (Carrera 11 con Calle 9).  There you could get on the bus Cootransoriente (smaller bus) that goes Santa Marta/Palomino in la Guajira.  On your way you will pass "La Aguacatera", which is the entrance to the Lost City of the Tayrona, this takes about an hour.  Just tell the assistant of the driver that you are getting off at "La Aguacatera" when he/she comes to collect your fare which is $8000 Colombian pesos.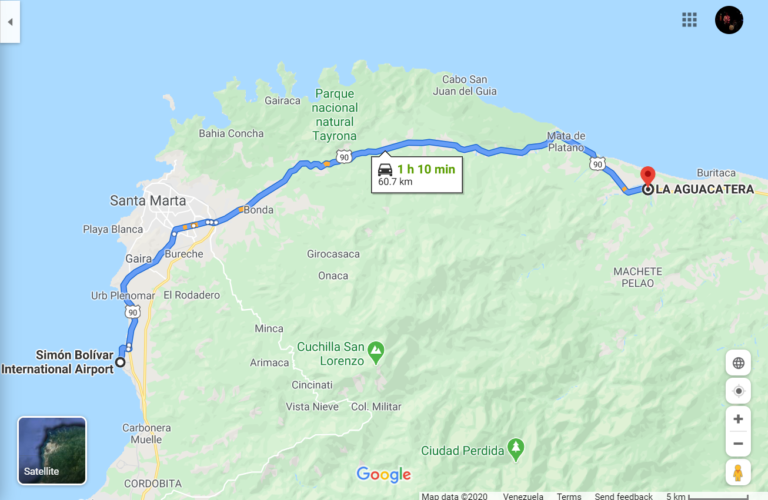 Second Leg . . . From la Aguacatera to Cinduli
From La Aguacatera you are about to enter Parque Nacional Sierra Nevada de Santa Marta.  You are about 14 kilometers from Cinduli!
In La Aguacatera you will find motorbikes that could take you up to Casa de Tabla (very close to Cinduli) the small community of which we are part.  The ride costs $30000 Colombian pesos and it takes about 40 minutes.  Only for the adventurous spirit, the riders know the road like nobody else, they are licensed to operate in the Sierra Nevada.
We could schedule your pick up at La Aguacatera or in Santa Marta.  Price to be arranged.